Plagiarism Detection and Content Verification for Admissions
turnitin for Research Centers compares submitted admissions documents to Turnitin extensive database to create a comprehensive Similarity Report (example below). This report highlights and provides links to any significant text match found within Turnitin databases. Locating these duplicate instances will help reviewer staff to decide if plagiarism, duplication, collusion or other problems may exist in the application.

Discover Duplication and Detect Plagiarism
Researches center office receives multiple documents as a part of the application process. Admissions essays, personal statements, essay questions, fellowship statements, and statements of purpose may not be the original work of the applicant. Use the information presented in the similarity reports to quickly discover duplication and plagiarism while gaining a better understanding of your applicants.

Confirm and Protect
Turnitin for Researches Centers provides a technological solution that improves the verification process and helps your research center representatives make faster and more equitable decisions. This technology helps institutions maintain honor codes, ethics policies and helps protect the institution's reputation.
Better Informed
Create best practices in your selection process by obtaining information that was previously unavailable and impossible to obtain. Your decisions can be confirmed to allow you to enroll the best researcher for your institution or university and improve retention of researcher.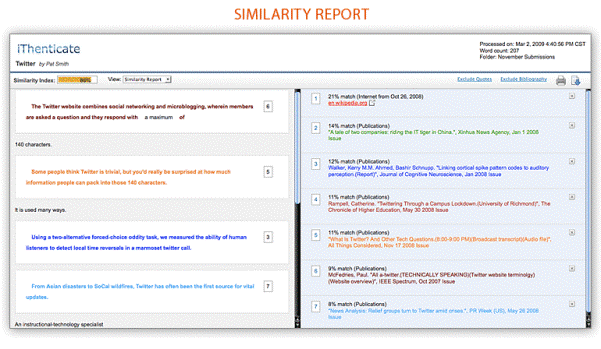 The Similarity Report contains:
Direct-source comparisons of matched words to matched documents (highlighted with-or-without color coding), numbered and aligned side-by-side.
Pattern-recognition matching of both word-for-word and paraphrased materials.
Ability to exclude any individual match or a direct match to the applicant.
Ability to view all underlying matched words that have been obscured by overlapping matches.
Option to resubmit the Similarity Report to include all current data in the database.
Option to build an internal database of your institutions applications or participate and submit to the central Turnitin for Admissions database.
File Formats:
Acceptable submission formats include: Word¨ & Word¨ XML (.doc, .docx), WordPerfect¨ (.wpd), Rich Text Format (.rtf), HTML (.htm, .html), Text (.txt), PostScript (.ps, .eps), and portable document format (.pdf). Cut & Paste submission option accommodates unlisted file formats.