Do you want your website content to be updated more regularly and more rapidly?
Are you looking for an easy way of updating the content on your websites, intranets, extranets and sales portals?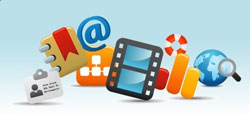 If so, you need a powerful and versatile Content Management System that provides robust and scalable websites for organizations of all sizes.
We can support you with our in-home-made CMS which includes a unique content wizard interface that simplifies the management of your web content. This allows your users with the most basic computer skills to manage edit and publish content to your online presence.
Our CMS was developed and designed by Clear Vision. Where customization or additional functionality is required, these modifications will be built and integrated by our own team who developed the original product suite.
ClearVision CMS Features:
Content management system allow you to modify your website contents (add, update, delete) pages without the need to have a programing expertise.

Company News, Events, Media Gallery that includes photos and videos, Polls, Career center, Contact us form with Google Maps Location.

SEO fully support with meta description, meta keyword, Robots.txt value determination and auto generated XML sitemap.

Friendly URL that allows you to customize the page and modules links (support Arabic).

Cashed version of contents (CSS auto merging, Auto cash SQL statements, Cashing complex process for speed).

Dynamic Forms Builder, which make building forms simpler with a drag & drop features.

Questionnaires Builder, just name the question, determine the fields and lunch your questionnaire.

Notification center to manage notifications messages and templates.

Manage admin users and thier permissions.

Backup Module that allow you to auto backup and restore contents for CMS, also to download.

Detailed charts and tables for visitor statistics reports (using Google Analytics).

Social media sharing, Social posts boxes, YouTube boxes.

Multi Language Support (Arabic, English).
Our CMS Main Modules & Functionality:
| | | |
| --- | --- | --- |
| | Advanced Page Editor | |
| | |
| --- | --- |
| | Online Calendar |
| | | |
| --- | --- | --- |
| | News & Events | |
| | | |
| --- | --- | --- |
| | Articles Management | |
| | | |
| --- | --- | --- |
| | Photo Galleries | |
| | | |
| --- | --- | --- |
| | Video Galleries | |
| | | |
| --- | --- | --- |
| | Dynamic Menus | |
| | | |
| --- | --- | --- |
| | Online Blogs | |
| | | |
| --- | --- | --- |
| | Email a Friend & Print Format | |
| | | |
| --- | --- | --- |
| | Contact Forms | |
| | | |
| --- | --- | --- |
| | Advanced Forums | |
| | | |
| --- | --- | --- |
| | Automatic Sitemap Builder | |
| | | |
| --- | --- | --- |
| | Poll, Voting, Surveys | |
| | | |
| --- | --- | --- |
| | Banner Manager | |
| | | |
| --- | --- | --- |
| | Private Members Area | |
| | | |
| --- | --- | --- |
| | User Permissions Management | |
| | | |
| --- | --- | --- |
| | Careers Center | |